The Concert Orchestra is open to enthusiastic string players entering a grade no higher than 8th in the upcoming fall.  Students in the Concert Orchestra should have knowledge of their instrument and be reading music to approximately the level of Suzuki book 2 or 3.  Applicants should also be of sufficient behavioral and emotional maturity to concentrate and participate in a weekly, one and a half-hour rehearsal held on Sunday afternoons, typically from 1:00-2:30 pm.
Led by Mrs. Johanna Kitchell, Concert Orchestra is a preparatory orchestral experience intended for students who may be new to or have limited ensemble experiences.  Placement in the orchestra is by audition.

Participation in the Concert Orchestra is not intended to replace school or private music lessons.  Students are expected to continue to take weekly private lessons and participate in their school ensembles.
---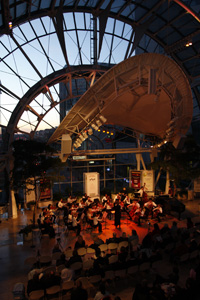 Rehearsals & Concerts
Concert Orchestra rehearsals occur on Sundays from 1:00-2:30 p.m. from September through May, with time off for traditional school holidays. Typically the orchestra rehearses in Lilly Hall on the campus of Butler University. Concert Orchestra participates in two concerts per year as part of the New World Youth Orchestras concert series.
Repertoire
Sample repertoire:

Blue Danube Waltz
     Strauss (arr. R. Longfield)
Allegro Giocoso from Symphony No. 4, Op. 98
     Brahms (arr. D. Monday)
Serenade for Strings in C Major, Op. 48
     Tchaikovsky (arr. E. Del Borgo and B. Chase)
Sectionals
Guest clinicians and master class coaches, who are
respected private and school teachers from the central
Indiana area work with the students throughout the year.
Tuition
This is a tuition-based organization. Click
here
to read more about our rates.  Limited scholarships are available in cases of financial need. To read more about financial aid opportunities, see the tuition page.
To access the application and to learn more about application procedures, click
here
.  For more information about the Indianapolis Youth Orchestras, and Concert Orchestra, please contact  Executive Director Cara Pittenger at
This email address is being protected from spambots. You need JavaScript enabled to view it.
.