Our professionally designed and printed program book is a cherished keepsake for our members and their families. Inside the program book are ads purchased by local businesses and individuals.
---
Indianapolis Youth Orchestras seeks program advertisers for its 2019-2020 season. Below are the rates for Corporate Sponsors, Advertisers, and Non-Profit Supporters. The Indianapolis Youth Orchestra serves 200 families from central Indiana. Our concert series includes 3 concerts at Hilbert Circle Theatre. Approximately 3,000 patrons attend our concerts throughout the season.
All ads must be camera-ready, black and white art. We can accept clean and original artwork only (no copies).   We cannot accept raised printing or business cards. Ads submitted without suitable camera-ready copy will be charged an additional processing fee of $50 for set-up. Electronic ads must be in an EPS file or other hi-res format. Ads must be e-mailed to This email address is being protected from spambots. You need JavaScript enabled to view it..
Deadline is 10/1/19. Please reserve your space by filling out this form.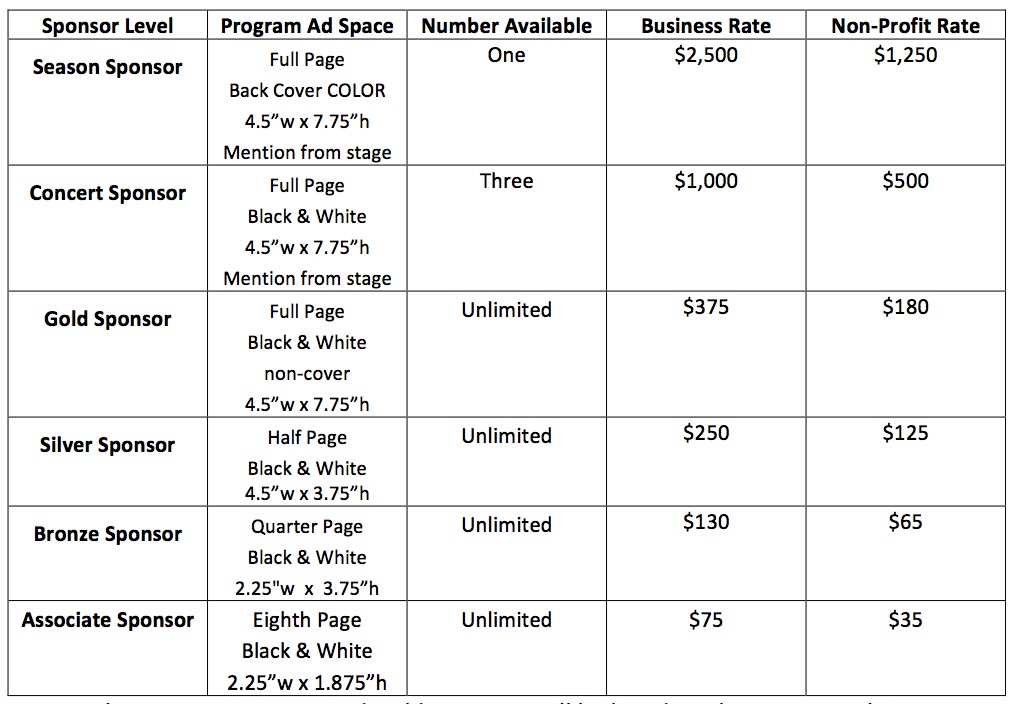 The Season, Concert, and Gold sponsors will be listed on the IYO Website.
How you help us
IYO helps to develop our next generation of audiences and performers – if you support adult orchestras or other music organizations in the community, IYO is a natural extension of that support.  Though we do require tuition from our members, these funds account for only 40% of our annual budget.  We strive to keep our tuition reasonable for all families and your support helps to defray those costs. 
Your support helps us to:
~ purchase music
~ bring in world-renowned guest artists
~ hire expert sectional coaches, who help expand our students' technical skills
For more information, please email This email address is being protected from spambots. You need JavaScript enabled to view it.